Periodic inspection is our core business
Periodic inspection
Periodic inspection is carried out in accordance with rigorous regulations by operators qualified through approved inspection bodies.
1. Retesting
Residual gas inspection
Once the cylinders have been depalletized, the presence of residual gas in cylinders is detected automatically. Gas residues are recovered via a closed circuit to ensure the environment is optimally protected.
Valve disassembly
Valves are disassembled in a semi-automatic way. Each valve is then inspected by an expert to check if it can be reused.
Pressure resistance inspection
The cylinders are transferred to a carousel where they undergo a water pressure test. The pressure applied varies from 15 to 50 bars depending on the type of cylinder.
Furnace process
The cylinders are then transferred to a 30 metre-long furnace, set at 700°C, for paint to be burned off. This furnace, equipped with a filter and post-combustion smoke treatment system, meets European airborne emission requirements.
Shotpeening
The cylinders then undergo surface shotpeening to make the metal surface as clean as possible for optimal visual inspection.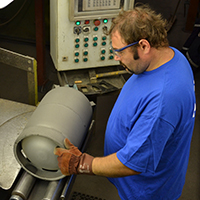 External visual inspection
This visual inspection forms a vital part of the retesting process. It is carried out by highly-specialized operators.
These operators are checked regularly by a representative from a duly-approved inspection body, who is based permanently on the site.
The cylinders are then sorted into three main categories:
cylinders accepted,
cylinders refused,
cylinders with repairable flaws. The latter are transferred to repair facilities.
2. Repairs
Presta Cylinders expertise
Handle repair
Base repair
Flange repair
Collar repair
Dent repair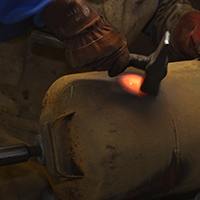 Dent removal
Cylinders with indentations that are accepted by industry standards can be repaired.
A large number of cylinders can be put back into circulation when dents are removed.
Base straightening and replacement
Presta Cylinders straightens bases that have repairable flaws or replaces them to ensure the cylinder is vertically stable.
Handle and collar repair and replacement
Cylinder origin data is specified on the fixture newly-welded to the cylinder and is save in our information system. This ensures that cylinders can be traced pursuant to regulations in effect.
Flange replacement
The external thread of the flange, where the cap is screwed on, is systematically checked and, when necessary, replaced.
3. Completion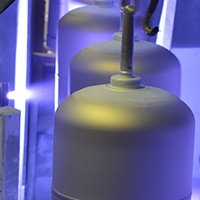 Metalizing
By metalizing the cylinders by spraying molten zinc on their surface ensures that the steel is optimally protected against rust.
Painting
The 100% polyester thermosetting powder paint that Presta Cylinders uses ensures that the result is perfect in all respects.
This process is also environmentally-friendly:
Airborne emission-free, smell-free, waste-free. Thermosetting powder paints are solvent and heavy metal-free and do not need to be mixed with thinner or water to be used.
The powder paints used have considerably improved operators' working conditions: low toxicity, reduced risk of fire, ease-of-use.
Internal inspection
Internal visual inspection is carried out using a powerful LED light. This is used to ensure that no impurity or water residue remains in the cylinder prior to mounting the valve.
Valve mounting
The valves, adapted to each type of cylinder manufactured, are coated with a sealant and manually prescrewed. The valves are then put through an automatic valve machine that automatically tightens the valves to the torque required and ensures it is well oriented.
Weighing
Cylinder overfilling is prohibited for safety reasons. To ensure that the tare weight specified on the cylinder is correct, Presta Cylinders uses an exclusive weighing system.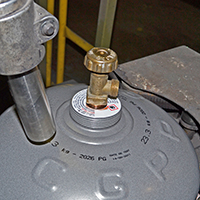 Inkjet marking
Some data, known as "variable" (tare weight and date for the next retesting) must be visible on the cylinder or on a fixture and must be sustainably legible. Presta Cylinders uses an inkjet process to ensure this.
Serigraphy
To customize cylinders, we use a last-generation serigraphy machine to high-quality print customer logos.
Pad printing
Our pad printing system prints safety markings and customizes cylinders based on customer requirements.